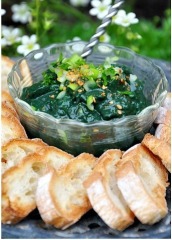 ingredients :
1 ripe avocado
1 tomato
2 tablespoon shaved soup petals Spirulina
2 tablespoon water
1 teaspoon lemon juice
1 teaspoon extra virgin olive oil
1 clove garlic, chopped degermed and knife Some green stalks of spring onions
1/2 teaspoon gomasio
1) Halve your lawyer and remove the core. Cut into cubes and place the cubes in a mortar.
2) Wash and also cut your tomatoes into 1 cm square approx, you add to the lawyer, and Spirulina, water, lemon juice, olive oil, garlic and stir well with the pestle by crushing slightly the lawyer.
3) Put in the fridge for 2 hours and serve with a little gomasio on top and a few slices of green stalks of spring onions.
.
This version of guacamole is excellent and with toasted bread is very good !