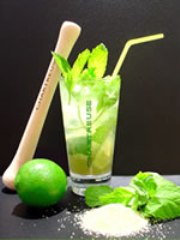 Spirulina cocktail ? Try it to believe! Little recipe :
In a shaker, mix sparkling water a with few drops of lime
Add a teaspoon of sugar unrefined brown cane
Mix well
Pour into a large glass
Add another tablespoon of brown cane sugar
Y put a few fresh mint leaves and two tablespoons of Spirulina powder
Serve with some ice and an agitator
A kind of Mojito with spirulina ...